Coffee Break Newsletter
We publish our Coffee Break irregularly, when we get around to it, for the enjoyment of our friends. No dry technical information, just a little humor, actually quite a bit, to brighten your day. Click on an issue below to view and/or print. If you would like to receive this newsletter in the mail, Click here for your Free subscription.

Its FREE!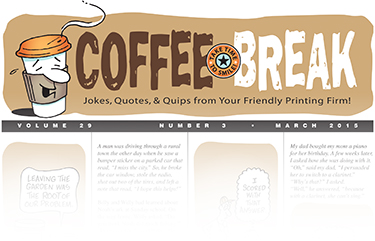 ---
Coffee Break is provided on line in the Portable Document Format (PDF) which requires that you have the FREE Adobe Acrobat Reader installed on your computer.