Please tell us how many names are in your list
VERY IMPORTANT--Please tell us how many names are in your database. This assures us that we received your complete list. Also, if you have sent information other than name and address, please note what information is to be used in the address block.
Most software programs will be able to "export" or "save as" one of the following formats: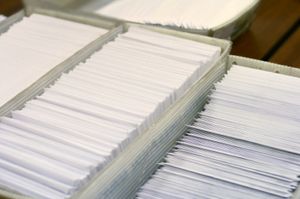 data interchange format (.dif)
We also accept "native" files from the following software:
MS Works Spread sheet or database (.wks)
If you do not see your format listed, please contact us for help. Note: Some MS Word label files or "print to disk" output may incur additional charges.
STATEMENT OF CONFIDENTIALITY--Sharp Printing Services, Inc. agrees that any mailing list in our possession will be used only upon specific instructions from you, the owner of the information, or someone within your company or organization, who you designate.
Sharp Printing Services, Inc. will not use the list, or any part thereof for its own gain, except to sell to you, your company, or organization, the printing and mailing services for which the list is designated. We will not show the contents of your list to anyone outside of our employ nor will we loan, rent, sell or give away any information in your list.
You have our word.